In order to make the most of this list of the best times and places to meet someone special, you'll need to complete a crucial task first. If you want to find someone who's a good match for you, then you'll need to identify the characteristics and attributes that you want before you start.
No lazy half-done effort will do. If you get lazy or arrogant about this task, the results in who you find will be equally lethargic and overconfident.
Do you think it's possible to build the home of your dreams without first identifying how you want it to look and function? How do you know if it's going to fulfill your needs if you don't know in advance what you want? The same is true of finding a quality date, romantic partner, or spouse.
One way to complete this task is to follow the guidelines in my article entitled, "How to Find Love With a Person Who's Right for You!" Or if you want to create a "precise" image of your perfect partner that will stick with you, there's a comprehensive yet simple tool for that inside my book, "Finding the One Who's Right."
The word "task" implies unpleasant work. This particular task shouldn't be viewed as work at all. If you consider the beautiful reward at the other end, it should be a pleasure.
Okay, let's go over the list. As you review this information, keep in mind that I am presenting the best and worst, not the mediocre. The mid-range stuff may be good too, but only the best will increase the probability of finding a good match. You're probably going to be surprised by how I've classified certain items. But after you've gone through the entire list I think you'll understand.
Best Times
During Spring and Fall
I have found that these transitional periods are ideal for meeting someone special. I have started more relationships during the spring and fall than at any other time of the year by far. Once you read the "Worst Times" section you'll have a better understanding of why this is true.
The spring represents new beginnings, new growth, and new opportunities. Because of this, it seems to be just the right time for humans (and all other mammals) to search for mates. The weather is ideal. There are more activities going on. And there's a lot of fun and adventure to look forward to as summer approaches.
With the anticipation of summer, comes the motivation to find a partner so you can enjoy it with someone special. If you're lazy or put it off, there will likely be slim pickings by the time summer arrives. Or the gal or guy that you've got a crush on will be away on vacation.
Fall is a reflective and anticipatory period that is perfect for romance. I started the majority of my long-term relationships during the fall.
Maybe it's the beautiful fall colors, the cooler weather that encourages snuggling, and the exciting expectation of the upcoming holidays.
With the cold weather and the holiday season approaching, it makes sense that we would be motivated to find a partner during this period.
The fall offers many opportunities for romance to develop. Like drives through the countryside to see the autumn leaves. Trips to harvest festivals to enjoy freshly baked goodies. And walks through town to watch the transition to a festive appearance as holiday decorations are added.
The anticipation of the holidays creates a strong incentive to find a partner. Most people would rather go to holiday meals, events, and especially company parties with someone special than alone.
So let the spring and fall seasons inspire and lead you to a great love.
After You Achieved an Important Goal
After you've accomplished a challenging goal, you're confidence and outlook are at a high level for an extended period. So this is an ideal time to get out and find or attract a person who's in a similar state of mind.
This might happen when you graduate from college, get a promotion at work, get elected to an office, buy a new home, get your teeth (smile) fixed, quit smoking, quit drinking, reach your goal weight, or complete a personal development project.
Take advantage of this natural high immediately!
When You Get the Inspiration
Whenever you get the inspiration to talk to a person you're particularly attracted to, do it! It may be an extreme attraction, a really good vibe, or both. The important thing is to act on it without deliberation even if you're scared.
There may have been certain forces that brought you both together at that moment. Depending on your beliefs, it could be the Universe, God, angels, or ancestors.
Just make some sort of spontaneous comment "unrelated" to the attraction you feel, smile, and see what happens. If you feel some chemistry, continue. If not, consider it a trial run for the real thing.
This can happen anywhere. At the shopping mall, grocery store, neighborhood park, walking/jogging/running path, health club, or self-improvement seminar.
I've started several outstanding relationships this way. I've also passed up a few by not trusting the vibe I was getting.
To take advantage of these moments, you must be receptive, you must trust the signals you're getting, and you must act upon them.
Worst Times
During Summer and Winter
By the time summer begins, the best players have already been picked and the game has already started. You may find some potential partners, but their quality and quantity will likely be on the lower side during the summer.
Another problem with summer is that many people are away on vacation. And those who can afford a vacation, are usually better picks. If you're in college, most students are either working or taking extra classes during the summer. So access to them is limited.
The best plan is to find a summer love before summer arrives.
Winter has several disadvantages when it comes to finding someone special. The cold weather is one of the biggest. If you get snow or a lot of rain where you live, then just getting around town can be extremely difficult. There are fewer activities going on during the winter (unless you live in Hawaii as I did). People are less willing to take advantage of even the most attractive social invitations because of cold or bad weather. With a lack of sunlight and warm weather, people's moods can be subdued, which discourages interaction and especially romance.
Another problem with the winter cold is that you can't wear clothing that you look good (men) or attractive (women) in. You also cannot accurately detect the build, weight, or fitness of a potential partner because of all the heavy clothing.
The other disadvantage to winter partner "shopping" is all the interference by holiday festivities. It's hard to schedule dates. And you certainly don't want to have your first date at a family holiday dinner and especially at a company party.
The first few dates are usually awkward and sometimes disastrous. Don't use these important events as a testing venue. Go on your first few dates alone. You'll make a much better (lasting) impression on your friends, family, and boss and your bosses' boss if go to holiday parties with a person who is a good match for you and a rock-solid ally.
Rushing to find a date for holiday events is an extremely bad idea. It's akin to rushing to replace a lover after you've broken up. Both are desperate and forced acts that will result in a poor match. And bringing someone who is clearly inappropriate for you to one of these events will reflect poorly on you!
Summer and winter are the worst times to be alone. So make a serious effort to find or attract a partner prior to the start of these seasons.
Right after the Loss of a Love
Whether it be a loss due to a spouse's death, a divorce, or a breakup it is crucial to take time to heal before you get into a new relationship. According to the author experts in the book "How to Survive the Loss of a Love
," the amount of pain caused by these losses is the same.
All too often the pain of the loss of a love gets the best of us. Then we get into a desperate mode of trying to ease the pain and fill the void by finding another partner as soon as possible. These relationships rarely work out well. And it doesn't matter how good-looking, nice, or wealthy they are.
I've been through dozens of breakups. Goes with the territory of dating lots of women. A few of them were extremely painful. None of the relationships that I got into right after a painful breakup worked out well.
After one particularly painful breakup, I got involved with the daughter of a famous professional NFL football player lineman. She was a beautiful woman with a very pleasant personality. Even so, my relationship with her did nothing to ease my pain. So I ended it rather quickly. Several months later, I found out how famous and "big" her father was when I saw a picture of him on a billboard. After I saw that towering picture of him, I was sure glad that I didn't break his daughter's heart. 😮
You have to recreate your life and get your strength back before you begin another relationship. Otherwise, you'll start a new relationship from a position of weakness and vulnerability. And with a divorce or a breakup, you may carry toxic baggage from the old relationship into the new one. Then when the relationship ends, you have to grieve the loss of two loves and begin rebuilding your life all over again.
Start clean.  Wait!  Waiting doesn't mean you do nothing though.  The period after a break-up is a perfect time for self-improvement.
When You Go Through a Difficult Period
You're going to waste your time or attract a low-quality partner if try to meet someone after you've suffered a major loss or setback. Guaranteed!
It's a bad idea to seek a new relationship right after you've been expelled from college, fired from your job, or evicted from your home. The same is true if you had your car repossessed, your savings depleted, or your home burned to the ground.
I'm sure you get my point. I don't think I'd have any trouble convincing anyone to forget about finding a new relationship during situations like those I just described. You'd be much better off spending your time working on personal development than seeking a relationship.
When Your Head Isn't in the Game
If you walk into a party, nightclub, or dance and you have that "it's not going to happen tonight" feeling, don't waste your time. Go home.
I don't fully understand what triggers these feelings but I know that they're almost always right. It may be that our mind has instantly appraised the environment and our mood based on past experiences and is signaling "retreat!" "System error!" "Try again later."
As I mentioned in the "Best Times" section, the opposite can be true as well.
Frequently our intuition is a better guide than our conscious mind. If you get these feelings, just trust them and move on.
Best Places
Special Interest Groups
Special interest groups offer the opportunity to meet people who share your interest or passion in a particular area. Whether it's a hobby, computer, sports, arts, music, travel, lifestyle, or a political, social, or environmental group, you're sure to find people who are similar to you.
Finding a person who shares your interest or passion in a particular area provides a solid foundation for building a lasting relationship. These groups are an ideal place to find such a person.
I've noticed that special interest group members have similar personalities and interests. For example, the members of a vegetarian group would likely also be interested in exercise, renewable energy, and green living. I've actually experienced this very thing with an online personal development group. When I attended a local meet-up, I was amazed at how similar we were. I really enjoyed being around these people. The only problem was that this particular meet-up was for men only.
There are few places where you will find more built-in compatibility than a special interest group. Join the group that represents your greatest passion and your greatest passion may become the person you meet there.
Self-Improvement & Personal Enrichment Venues
Any self-improvement program, seminar, workshop, or class that focuses on personal growth, education, or fitness is a great place to meet a quality partner. People at these venues are interested in personal development, learning, and health. They seek the best life for themselves and others. They are positive. They are winners.
These venues are usually upbeat and stimulating. Everyone who's there has the same objectives and is having a similar experience. These conditions are ideal for connecting with potential partners who are more likely compatible with you.
Continuing Education College Classes
These are the classes available to anyone whether they graduated from college or not. I am not talking about postgraduate work. I talking about the non-degree classes that colleges offer to the community for career advancement, personal enrichment, and recreation.
A certain kind of person attends classes like these. They are interested in self-improvement, quality living, and lifetime learning. They'd rather spend an evening in the intellectually stimulating environment of a classroom than in their living room watching television. This says a lot about a person.
If this is you, then you need to enroll in some classes! If you didn't go to college, don't worry about it. These classes are geared toward everyone. If you find yourself struggling a bit, ask an "attractive" fellow student for some advice. 😀
Places You Love
This one is powerful. The places you love are a reflection of you! They not only represent your feelings about a particular place, but they indicate many aspects of your personality and character. The same would be true of other people you meet there.
If you love beautiful, pristine places like Lake Tahoe, it's likely for example that you and others who go there would also be interested in protecting the environment, camping/RVing/hiking, fitness, and healthy eating.
When you go to the places you love, keep this in mind and tune into the vibe of those people who are like you. What could be better than falling in love with a person who not only likes many of the same things you do but also loves the same places? Doesn't get much better than that.
Online Matchmaking Services
Online dating is one of the greatest benefits of the Internet.  These services expand your search across continents and create a pool of thousands of highly compatible matches.  And this can be done in a few seconds, once you completed their profile or questionnaire.  Without specialized software and the Internet, this degree and depth of matchmaking would be impossible.
There's an important issue to keep in mind though. In order to get the results you want, you must make sure that the matching criteria at the service you choose include everything that's important to you! If it doesn't, the matches that the program gives you will fall short of your ideal partner.
One way to be sure that the matching criteria and the results truly match what you want is to identify the characteristics and attributes (criteria) of your perfect partner beforehand as I stressed at the beginning of this article.
The better you identify the criteria that are important to you and what the culmination of that criteria will look like, the better you'll be able to select the service that is best for you.
If finding the best possible match is important to you, then trying a reputable online matchmaking service is a must.
Place of Worship
I am not a fan of organized religion, but I have to admit that these environments are a good choice. Why? Because the people who attend religious services, as I know them to be, usually have "good intentions" or they wouldn't be there. You also know that they have the same moral beliefs as you do.
I was raised a Christian which, like other religions that I am familiar with, has teachings that are very admirable. They represent qualities that would be highly desirable in a life partner. So if there's a collection of people who are willingly learning about these principles on a weekly basis, then the probability of finding a quality match at these places goes way up.
If you're not truly sold on the doctrine of a particular religion, don't waste their time or your own by only attending singles events in order to find a dating partner. That would be deceitful and unfair.
Worst Places
Alcohol & Drug Rehab Facilities
How can two struggling lost souls possibly find elements of a healthy relationship between them? I think it's impossible. Neither person is standing strong on their own. If they were, they would not be in a rehab facility.
If a person is serious about making an important change in their life, I think that's fantastic. But starting a relationship during the battle to regain your physical and emotional health is not a good time to start a relationship. Neither person is prepared for it. It would be like trying to build a house on sand instead of concrete. A house built on sand might look good at first, but eventually, it will start to tilt, slide, and crack.
If you're reading this from rehab or you're going there soon, get yourself clean and strong first! Focus only on yourself right now. That's the key to success. Once you've become what you imagined when you made this decision, you'll be ready to find and build a great relationship. Until then, the articles on this site and Guru Habits may help you get there.
Party Houses
I'm talking about that house where some individual or group is always having a party. There's always plenty of booze and other stuff to "create the mood." And lots of warm flesh.
The problem is the mindset and the intoxication. Sure you might have a crazy time until you wake up in the morning and don't know the name of the person who's next to you. It's like that old saying, " I've never gone to bed with an ugly woman/man in my life. But I've woken up with a few."
Obviously, you could make better use of your time. But if you do go to party houses, don't go there looking for the love of your life. And don't take anyone seriously at these parties who tell you that you're the love of their life.
Nightclubs
I almost didn't include this because I met a lot of women at nightclubs. But when I thought about the outcomes as opposed to those that I met elsewhere, they weren't very good.
Two patterns emerged after I thought about this for a while. First, being under the influence of alcohol messes things up. It messes up your assessment and selection abilities. Second, there is usually resistance to go beyond the first meeting since neither person was behaving like they "normally" would because of the booze.
I can't deny that it's not a lot of fun to go to a nightclub, have a few drinks, and be a rock star for the evening. But when you meet someone under those conditions it rarely leads to a quality match.
None of the best loves of my life began at a nightclub, but I certainly thought so for a couple of hours a few times.
Most Singles Clubs
If you've read the article about my singles organization, you're probably surprised that I would categorize this venue as being one of the worst.  The fact is most are and a select few are not.  Here's why.
The only commonality that is readily apparent at a singles club activity is that everyone is single. Since similarities are so important in finding a good match, you'd be better off joining a club that represents your greatest passion. Then you'd have a better chance of finding a highly compatible match.
The other aspect of singles events is that they create an unnatural pressure to connect. I used to experience and observe it in my own singles organization all the time.
This is why I defined a philosophy and direction for my singles group. The emphasis of the club was on the development of friendships and comradery and not on finding a date or hooking up. From that foundation, solid romantic relationships could develop. And they did.
I was extremely motivated to create the philosophy that I did because I knew from experience that the greatest loves of my life were built on friendship. Those that began in bed or under the influence of alcohol were not at all comparable.
If you try a singles group, find one like mine or one that specializes in a particular area like fitness, travel, or veganism. These groups may still have mixers, brunches, and dances like I did, but their sole purpose isn't on creating artificial conditions for courting to occur.
At Work
It's easy to meet potential partners at work. It's too easy in fact. Is kind of like the lazy person's approach to finding a date.
I call it lazy because it's not the smartest thing to do. We all know it's not a good idea but most of us have done it anyway, myself included.
I avoided it for many years during my corporate career.  But after I was well established and had a strong record of success, I felt more comfortable taking a chance.  Keep in mind, that I wasn't married and I didn't have a girlfriend.
I ended up taking two chances. The first one ended without any problems, mostly because she was working at another company by the time we broke up. The second was a nightmare. It didn't cause any problems with my career. It was just a difficult thing to deal with when you can't avoid hearing about and seeing your ex on a daily basis.
Besides the possibility that a bad relationship could damage your career, some unique dynamics of a workplace make it a poor choice as well. Most relationships that I've observed or participated in involve one person who is either in a superior or subordinate position.
The boss-subordinate relationship is unlike most relationships in your life.  And it's certainly not comparable to a normal romantic relationship.   Even if you become friends, there is still that element of superiority due to a boss' ability to use his or her powers.  Because of this, the development of the relationship does not match what you will eventually have outside the workplace.  I know that these relationships move away from being a boss-subordinate relationships.  But since the relationship started on that basis, it's difficult for either party to completely remove it from their psyche.
Romantic relationships are complex and fragile.  And so are careers.  To be successful at both, each requires its own playing field.  Keeping your career and romances in separate arenas is just the smart thing to do.
Weddings
I know that many people believe that weddings are a great place to meet someone special. This advice comes mostly from men because we know that many single women get into that "Why not me?" frame of mind at weddings. Being in a vulnerable state like that, these women anxiously accept the attention of any man who shows interest.
Here's the deal guys.  Many women are in a weakened state at weddings.  Do you really want to start a relationship on that basis?  Wouldn't you rather have a woman pick you when they are in a strong state of mind?
The same goes for you women. If you're not at your best at weddings and you know that men have it in the back of their minds that they have the advantage, do you think it's possible to make a good choice?
Here's the issue for women to consider.  Most single men put up their resistance shields at weddings.  They might think something like, "I am sooooo glad that it's not me who's getting married."   I could have been more direct and written what many men are really thinking, but that wouldn't be polite.  I think you get the idea though.
A wedding is the quintessential example of what most women want and what most men do not want — at least until they fall in love with a woman who's right for them. Therefore, weddings are not the best place to start a new relationship.
***
In my opinion, true love comes naturally in natural places. In other words, at times and places where there are no unnatural pressures or unhealthy needs to find a partner.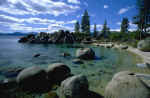 The best time and place comes down to what is your best time and place for starting a magnificent relationship. For me, it's fall, usually in October. And in places of beauty, learning, or unfamiliarity. If you're getting a vibe right now that we might be a perfect match, meet me at Hidden Beach, Incline Village in Lake Tahoe on Halloween at sunrise. 🙂
Enjoy the hunt by keeping your target in mind.