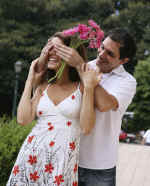 What is love? I will define it by describing what love is and what love is not. What is love varies from person to person but our need for it is the same. See if these descriptions ring true for you.
Prerequisite to Loving Another
We can only love someone else to the degree to which we love ourselves. This is the prerequisite to receiving life's greatest treasure: love!
If we do not love ourselves, we unconsciously put an unfair burden on our partner to love us twice (once to fulfill our need for self-love, and once to fulfill our need to be loved). Then we unwittingly expect them to do this without receiving much love in return because we have little that is ours to give. This is why we must get our lives healthy before we enter into a relationship, as discussed in my article entitled, "Self Evaluation & Preparation for a Successful Relationship." Then, once we have achieved self-love we will have a clear understanding of what is love, and the capacity to give and received it.
Self-love is the art of completely accepting our faults, completely appreciating our gifts, and completely acknowledging our individuality. (Individuality is the uniqueness that separates, and sometimes isolates us, from everyone else.) Once this is achieved, we are ready to love and be loved by another person.
Genuine self-love does not involve egotism, vanity, or self-valuation based on status or wealth. A person with true self-love is compassionate, humble, principled, and not affected by job titles or material possessions.
If you haven't yet found love within yourself, then do it! When you begin to understand what is love, you'll know that you are on the right path toward discovering self-love.
Impostors of True Love
"How do I know whether I am truly in love?" and "What is love?" are questions that are often posed. I believe that true love is only possible between two people who are right for one another. This is when the purest form of love can occur.
If the person is not right for us the feelings of being in love often come from unsound sources. Many times these distorted feelings are created when another person fills a void or deadens some great pain that we have inside. The void may be our own lack of self-love, self-esteem, or self-confidence. The pain might be connected to an event, such as a breakup with a former lover (rebound), the loss of a close family member or friend, or an unresolved hurtful incident (s) from our childhood.
A new love interest may be able to fill the void inside and save us from our pain for a while, but eventually, the burden will become too great for them to sustain. Then, as the emptiness and pain resurface, we will unwittingly place blame and make unreasonable demands on them. Either partner can, of course, experience these conditions. In other words, we may be the recipient (the needy one) and not the provider (the savior). Regardless of the role, both of them are unhealthy!
To experience true love, both partners must be emotionally healthy, stable in their personal lives, and right for one another. These people know the answer to the question "What is love?" because they experience it.
What You Will & Will Not Experience
How do you know if you are in love with the one who's right? The following lists will provide you with what you will and will not feel, think, share, and experience when you're in love with the one who's right. To be able to recognize what is love we need to know what it's not as well as what it is.
You will:
Love yourself more.
Think of them before yourself.
Want to be with them all the time.
Harmonize with them without effort.
Share many of the same goals.
Share many of the same passions.
Share many of the same principles.
Share the same outlook on your home.
Share similar views on money matters.
Find humor in many of the same things.
Trust them with your deepest thoughts.
Get attention from them.
Experience sexual fulfillment.
Feel confident and sure about them.
Feel motivated by them.
Feel supported by them.
Feel relaxed and comfortable with them.
Feel better about yourself by what they say.
Feel secure that they won't leave you.
Share the same vision for the future.
You will not:
Begin to hate yourself.
Think of what you want all the time.
Feel like spending time away from them.
Need to force your way with them.
Be pulling in different directions.
Be struggling to find common interests.
Challenging each other's motives.
Have vastly different ideas on your home life.
Be poles apart on how money is spent.
Argue and fight all the time, if at all.
Be afraid to share your deepest thoughts.
Be ignored by them.
Flirt with other people.
Feel fear and anxiety about them
Feel pressured by them.
Feel they have little interest in your life.
Have to force yourself to be pleasant.
Feel bad about yourself by what they say.
Feel insecure that they might leave you.
Have different ideas for the future.
Everything may not match exactly, but most of it should. Use these lists as a guide. You will know when you have discovered life's greatest treasure because you will have a glorious unquestioning feeling in your gut that you are in love with the one who's right, and they will feel the same. And you will know the answer to the question: "What is love?"
To learn how to find a person with whom you can experience true love, I would suggest that you read the article entitled, "How to Find Love with a Person Who's Right for You!"
To know what is love is to know what true love is with another person and yourself. Now that you have read this article, and probably compared it to your own experience, what is your answer to the question: "What is love?"